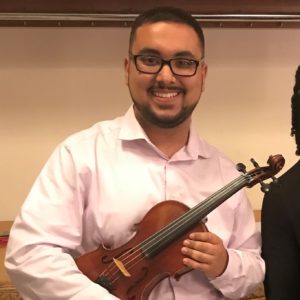 Juan Pablo Ramirez-Gonzalez is a multi-instrumentalist who teaches violin, piano, voice, and guitar. He graduated from Gwinnett County with honors, where he was involved with the Gwinnett Youth Symphony and was the Concert Master for his high school chamber orchestra. Juan was the previous youth and adult choir director for St. Marguerite, Lawrenceville, Ga, for 3-5 years. He is currently finishing his Music Education at Georgia State University under the tutelage of Tania Maxwell Clements, previous winner of Watson Forbes Prize for Viola playing and previous assistant principal violist for the BBC Philharmonic.
At Georgia State, he currently sits as Principal Second Violinist in the GSU Symphony Orchestra. He is currently one of the piano accompanists and singers for the contemporary choir at St. Patrick's, Norcross, Ga.
Juan enjoys teaching students from all ages and levels of expertise. During his free time he enjoys cooking, playing games, and spending time with his family.