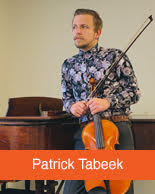 Patrick Chase Tabeek is a violist and violinist who has been playing and performing since the age of 5. He is also proficient on piano. Patrick has multiple solo and ensemble awards from Florida state competitions, as well as Broward County, where he attended high school at the acclaimed Dillard Center for the Arts. Patrick is currently finishing his degree in Viola performance at Georgia State University, where he studies in the studio of Tania Maxwell-Clements, previous winner of the Watson Forbes Prize for Viola playing and previous assistant principal violist of the BBC Philharmonic.
At Georgia State University, Patrick sits as the principal violist of the GSU Symphony Orchestra, and was placed as a finalist of the Brumby Concerto competition in 2020 (cancelled due to COVID-19). Patrick also plays chamber music around Atlanta with the Magnolia ensemble, of which he is a founding member.
Patrick enjoys teaching students of all ages! In his free time he likes to ice skate, cook, and spend time with his three dogs; Ollie, Lola, and Chaplin.