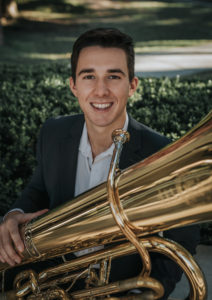 Ryan Masotti graduated from the Florida State University College of Music in 2020. While there, he studied Tuba Performance under the direction of Dr. Justin Benavidez. In addition to playing low brass instruments, Ryan has been a student of the piano since he was nine years old. He believes that the piano is an incredibly valuable instrument to learn because it can give students a tool for understanding the language of music.
Ryan listens to all different types of music and enjoys hearing what kind of music his students like as well. He has had extensive music theory training and has a background in arranging music for piano. Ryan likes to create arrangements of songs that are selected by his students. This helps his students put into practice the concepts learned in lessons, and also helps create engagement and a love of music. Ryan's favorite music to play is jazz and enjoys playing in bands whenever he can.
Ryan's goal is to inspire his students so that they are eager to practice what they have learned, while also developing their technique and musical knowledge. He believes that working on basic theory and ear training are of utmost importance to beginners in order to introduce them to concepts that will help their everyday practice. His teaching philosophy is based on the idea that music should be fun and students should enjoy the music that they play. He enjoys sharing his passion with others to develop lifelong students of music.